Company: City of Boone
Full time
Deadline: August 14th, 2020
Boone, IA
$52009.80 – $59417.16
Description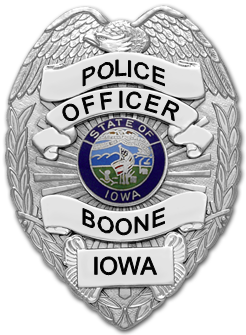 The City of Boone Police Department will be creating a Civil Service eligibility list for the position of Police Officer. The Boone Police Department is a proactive agency of 18 sworn officers. We are looking for two highly motivated individuals of good moral character to become a part of our team. The City provides a competitive benefit package and is a member of the Municipal Fire and Police Retirement System of Iowa.
Please visit our website at https://www.boonegov.com/egov/documents/1564163961_52344.pdf to complete our application form.
Starting annual salary: $52009.80 – $59417.16 depending upon experience with a possible $5000 signing bonus for certified officer.
EOE. Applications and resumes can be dropped off to the Boone Police Department, 525 Story St, Boone IA 50036 or emailed to Chief John Wiebold at jwiebold@city.boone.ia.us .
Deadline for applications is 12:00pm on August 14, 2020.