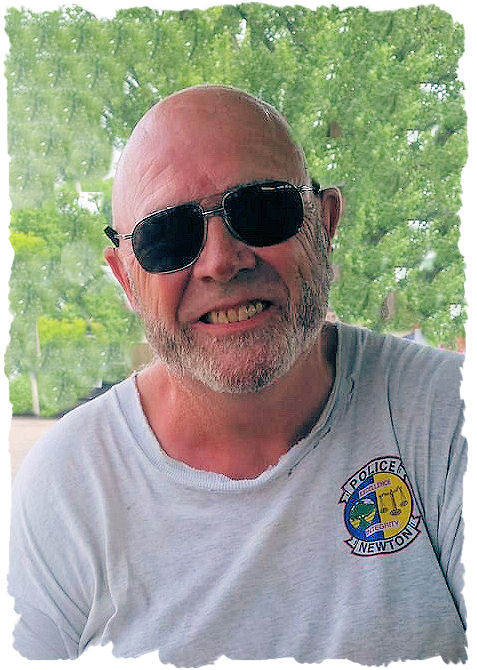 Michael L. DeLong
July 17, 1950- March 26, 2018
Michael "Mike" DeLong, formerly of Newton, passed from this life on Monday morning, March 26, 2018, at the Taylor House in Des Moines.
A time of remembrance and celebration of life will be 7:00 p.m., Thursday, March 29, 2018, at the Pence~Reese Funeral Home in Newton. Visitation with the family will be 5p.m. until 7:30 p.m., Thursday, at the funeral home. In lieu of flowers and as an expression of sympathy, memorials may be designated to the Food Bank of Iowa, on Guthrie Ave. in Des Moines or to Mike's family, to a charity of your choosing.
Michael LaMonte DeLong, 67, was born July 17, 1950, in Washington, Iowa. The son of Gerald and Joye (Wright) DeLong, he received a Bachelors of Science at Upper Iowa University. Having lived in the West Chester, Keota, Oskaloosa, Newton and the Des Moines areas. He was employed as a police officer in Oskaloosa and then Newton, 33 years, after retirement worked for Hirta & Armored Knights.
On April 14, 2017, Mike was united in marriage to Kathy Fritz in Des Moines. He devoted his life to his family and friends, volunteering with Project Aware, IA Food Bank, JOPPA and Planned Parenthood. He was a member of Pheasants Forever and the Wild Turkey Federation, and will be greatly missed.
Mike is survived by his wife Kathy; his children: Ben (Courtney) DeLong, Kelly (Doug) Sorenson and Tess (Mitch) Stein; his eight grandchildren: Sebastian, Ryanne, Hanna and Maddison Sorenson, Sally and Rose Stein and Emersen and Sawyer DeLong; his father Gerald DeLong; and his many good neighbors and friends.
Mike was preceded in death by his mother Joye DeLong and two brothers: Mark DeLong and Jeffery DeLong. Online condolences may be left for the family at: www.pencefh.com.