Officer Jamie Buenting Rockwell City Police Department E.O.W. 09-13-13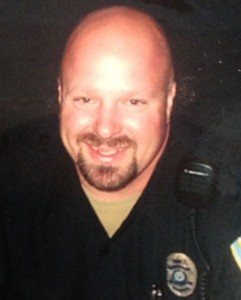 Officer Jamie Buenting
Rockwell City Police Department
E.O.W. 09-13-13
Police Officer Jamie Buenting was shot and killed during a standoff in the early hours of September 13, 2014. Officers had responded to the home four hours earlier after receiving a report that a man, wanted for felony domestic assault, was at the location. The man refused to exit the home when officers arrived and barricaded himself inside. The subject fired a single shot at approximately 1:40 a.m. and struck Officer Buenting, killing him.
The subject remained barricaded inside the home until surrendering at approximately 5:30 a.m. He was charged with first degree murder. Officer Buenting had served with the Rockwell City Police Department for eight years and had served in law enforcement for a total of 12 years.
Jamie is survived by his wife, two children, and many family and friends who love and respect him.