SIOUX CITY PD ANNOUNCES PROMOTIONS
SIOUX CITY PD ANNOUNCES PROMOTIONS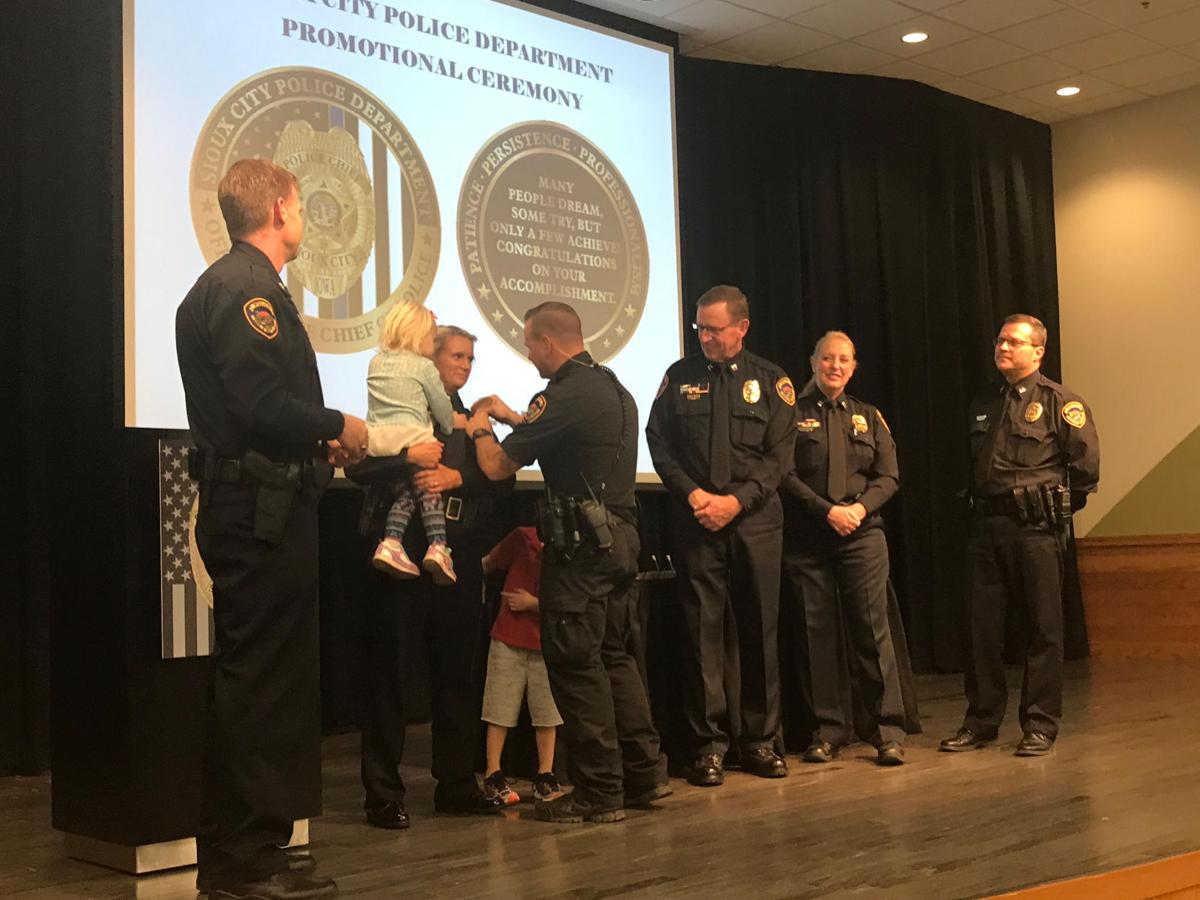 Photo, Sioux City Journal
Lori Noltze joined the SCPD in 2002. She was a K9 handler from 2004 to 2015, working both Watch 3 and Watch 2. She was previously a defensive tactics instructor and Field Training Officer. She most recently was assigned to the Youth Services Bureau in Investigations as the Crime Prevention Officer. Noltze is a member of the SCPD Honor Guard Team, Hostage Negotiator, and the Critical Incident Stress Management Team. Lori and her husband, Jake, also a SCPD Officer, have three children; Tanner (10), Tucker (6) and Claire (2).
Lt Brad Bollinger was born and raised in Mitchell, SD. He has a Bachelor's degree in Criminal Justice and a Master's Degree in Administrative Studies from the University of South Dakota. He began his career in Law Enforcement with the Sergeant Bluff Police Department in 1996. He joined the Sioux City Police Department one year later. He has worked all three patrol watches, and been assigned to the Special Investigations Unit as a detective and as a School Resource Officer at North High School. He was awarded the Tom Skaff Memorial Award in 2003 as the top Gang Investigator in the Quad State Region and was awarded the SCPD's Achievement Award in 2013.
He was promoted to Sergeant in 2012 where he worked on Watch 1 and Watch 2 Uniform Patrol and most recently as the Youth Bureau Sergeant. He is the department's lead Emergency Driving Instructor, a Citizens and Youth Academy Instructor, and is the SCPD's liaison to the Four Directions Center. He has been a member of the Honor Guard and taught GREAT and DARE to elementary students. He has been an Adjunct Professor at Western Iowa Tech Community College, a Strategic Planning Facilitator, and a Field Training Officer He previously was a department instructor for Patrol Rifle, Taser, Low Light Tactics, and Active Shooter.
He is married to his wonderful wife, Theresa and together they have 6 children, Troy, Victoria, Karsten, Brayden, Khloe, and Kendal. They range in age from 23 to 6. He has 3 brothers and one sister. He volunteers at his church and as a youth coach in several sports. His hobbies focus around his family. He likes to paddleboard, ride bicycle and motorcycle, golf and snowboard.
Captain Kirkpatrick has 26 years of experience with the department and has served in a variety of assignments as an officer and supervisor. A significant portion of his career was spent in uniform but he also completed assignments in the Special Investigations Unit, Youth Bureau and Task Force. As a lieutenant he was assigned to the National Training Center as well as Professional Standards and again, the Uniformed Services Bureau. Mark was a member and team leader with the SWAT team for a dozen years. He is a member of the Woodbury County/Sioux City Joint Emergency Operations Center and has worked on several local incidents.