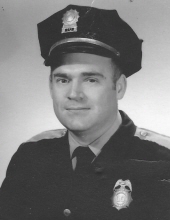 Robert "Bo" Berl Mason
November 30, 1933 - May 31, 2019
Robert "Bo" Berl Mason, 85, of Keokuk, Died Friday, May 31, 2019 at the Genesis East Hospital in Davenport, IA.

He was born on November 30, 1933 in Canton, MO, the son of Robert Lewis and Gladys Pearl Fuller Mason.

H graduated from Keokuk High School with the Class of 1952 and a graduate of the Iowa Law Enforcement Academy.

On May 23, 1953, Robert was united in marriage to Margaret R. Anderson in Memphis, MO. She preceded him in death on April 23, 2005.

Bo had been employed for the City of Keokuk Police Department for thirty-five years. He retired in 1996 with the rank of Captain. He had previously been employed by Graham Hospital, Stadler's Cigar Store and Denholms's IGA, all in Keokuk.

He was a faithful and active member of the Messiah Lutheran Church Missouri Synod. He served as an elder and attended Bible studies.

He loved traveling throughout the United States and especially enjoyed trips out west to see Yellowstone, the Badlands, Devil's Tower the mountains and the Redwoods. He made two memorable trips to Tempe, AZ to watch the Hawkeyes play in the Insight Bowl. Bo collected police memorabilia and other collectibles, too many to mention. He was a talented woodworker and enjoyed making many things for his family and friends, including, kid-size Harley motorcycle rockers, Iowa pig shaped cutting boards for wedding presents, wooden bears for new births and owls for graduation gifts.

Bo always said that he had the best seat in town – sitting in his front yard enjoying the nice breeze across the Torrence School yard. He was very proud of Keokuk and wanted everyone to have that same pride. Bo encouraged community involvement by being involved himself. He coordinated one-of-a-kind items with the Ertle Company who created die-cast collectable paddywagon and trolleycar banks to sell and raise money for various community organizations. He also had T-shirts made for the Keokuk Dam Anniversary Celebration and sold them to raise funds for tourism. Bo really enjoyed his picnic area in his backyard where numerous cook outs took place.

He is survived by four daughters, Dagmar Grieve (Ken) of Salem, OR, Sandy Adams of Tucson, AZ, Robin Mason of Keokuk and Cheryl Lunardi (Rick) of Eldridge, IA, one son, Ryan Mason of Rochester, IL, nine grandchildren, five great-grandchildren one great granddaughter on the way and his special friend, Kathy Coovert.

Besides his wife, he was also preceded in death by his parents, one son, Robert and one brother, Norman Paul Mason.

Funeral service was held at 10 a.m., June 8, at Vigen Memorial Home in Keokuk with Reverend Lester Dumer officiating. Burial was Sunset Memorial Garden in Keokuk.
Visitation washeld after 1 p.m., June 7, at the funeral home with the family meeting with friends from 4 pm – 7 pm.

Memorials may be made to the City Of Christmas, Sepsis Alliance, to the Donor's Choice or to Julie Wessel's Go Fund Me, envelopes and details will be provided at the service.