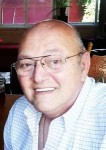 James J. Toma
August 11, 1943 to November 21, 2019
Jim Toma passed away in his sleep unexpectedly on Thursday, Nov. 21, 2019. His body will be cremated. Funeral services will be 10:30 a.m. on Tuesday, Nov. 26 at New Hope Assembly of God, 4425 70th St, Urbandale, IA.

Jim was born August 11, 1943 in Des Moines, IA, the son of Lena (Solomon) and George Toma. He graduated with the Dowling High School Class of 1961 and attended college at Grand View University before joining the Des Moines Police Department in 1967. In 1989 Jim retired as Sergeant of homicide investigations. Post retirement, he became a private eye and continued investigating. In the middle of his 21 years with the DMPD, he was elected to the Urbandale School Board.

Jim's formidable personality and stature complemented his role as homicide detective. In contrast, Jim was no match for his daughters and especially his grandchildren, and he was often found wrapped around one of their fingers. Familial love and loyalty is his legacy. He will be dearly missed.

Jim is survived by his daughters, Laura (Bryan) Derby and Trish Toma; grandchildren, Alyssa Turnquist, Taryn (Stephen) Smith and Connor Lark; great-grandson, Elija Holt; and his sister, Sharon Toma. Jim was preceded in death by his parents and brother, Michael Toma.

Memorials may be directed toward the family in loving memory of Jim.