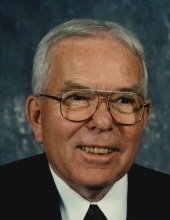 Richard G. Ward
August 9, 1930 to December 26, 2020
Richard G. Ward, age 90 of Tipton, passed away on Saturday December 26, 2020 at the Mechanicsville Specialty Care Center. Graveside services will be held at the Tipton Masonic Cemetery on Thursday December 31, 2020 at 11:00 AM.
Richard Ward (Dick) was born on August 9th, 1930 to Richard and Mattie Rena (Granger) Ward in Marshalltown, Iowa. He married Lora Mae (Morris) Ward on June 25th, 1950. They made their home in Green Mountain, Iowa until Dick joined the Iowa State Patrol in 1953.
He was assigned to District 12 in Davenport, so the Wards made their home in Tipton, where they lived until he had his strokes in 2008. He made many, many lifelong friends as an Iowa State Patrolman. He was one of the first state troopers to work Interstate 80 when the Eastern Iowa section was finished and opened in 1966. As a trooper, he found an interest in firearms and competitive shooting. He was on the national winning pistol team and won individual championship trophies. Being a farm boy at heart, he loved helping some of the area farmers on his days off and of course found time to hunt and fish. Some of his hobbies were searching for unusual glass insulators, assorted barb wire and loading his own ammunition. He loved the Iowa Hawkeyes, football and basketball. Whether working a game directing traffic or listening to the radio or watching on the television, he never missed a minute of their action.

When the children were in high school, he enjoyed watching them in their respective interests of football, swimming, singing, acting and playing music in the high school bands. In 1968 he was immensely proud to learn that the Tipton Tigers selected Dick Ward as fan of the year.
In 1977 he transferred to the Iowa State Fire Marshall's office and was one of the several agents in Iowa to investigate arson fires. He was a state fire marshal until his retirement in 1990.

When he was not hard at work, he enjoyed going on trips to visit friends and family with his wife, the love of his life. They celebrated 64 years of marriage before she passed away. He never knew a stranger and enjoyed nothing more than gathering with his friends and family. He was known as 279 to some, 704 to others, but a true to friend to all.

He is survived by his daughter Linda (Bob) Van Nostrand, Fairfield, sons Robert (Judy) Ward, Marion and Richard (Kay) Knoxville, TN, seven grandchildren and 13 great grandchildren, a family friend, Gary Sulzner, also known as the "4th", several nephews, nieces, and so many friends. His wife, parents, brothers and sister and oldest grandson, Sean Hannes passed before him.

Cards may be sent to Linda K. Van Nostrand at 201 E. Hempstead Fairfield, IA 52556.