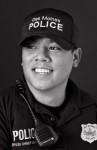 Chandy Souvatrat
February 19, 1985 - July 3, 2021
Chandy Souvatrat, 36, of Des Moines, was called home on Saturday, July 3, 2021, surrounded by his loved ones, just the way he wanted it to be. Chandy fought a long and courageous battle that he rarely mentioned which showed his genuine spirit of putting others first.

Chandy was born in 1985 in Kansas City, KS. The son of Khampanh and Somvang (Khanthamath) Souvatrat. The family moved to Des Moines, IA in 1995. It was in junior high when he met the love of his life, Gina, and they quickly became true life partners, sharing every important milestone for the next 23 years. They built a life of friendship, respect, and love. Chandy made Gina a better person through his unwavering belief in her, and for Gina, Chandy was her light and constant feeling of home. Together they welcomed a son, Jack (named for Chandy's childhood nickname given to him by family), and a daughter, Gigi.

After obtaining his Criminal Justice degree, Chandy made his dream of becoming a Des Moines police officer a reality. A community protector at heart, he was a proud member of the Des Moines Police Department for eight years. Chandy was also a founding member of the Iowa COPS Shooting Team which raised funds for the Iowa COPS organization, a cause which Chandy strongly believed in.

Chandy, aka Jackie, aka Jax, aka Chanman, enjoyed golfing, fishing, camping, chasing down the world's best whiskey, and listening to and playing music which he loved to share with family and friends. Chandy was truly a "Jack" of all trades. A self-taught guitarist, he learned to play a variety of songs, especially the music his kids enjoyed singing along to. Chandy also had a passion for cars his entire life. He established the Iowa s2000 group and was working on restoring his own Honda s2000.

Chandy is survived by his wife Gina, children Jack and Gigi; parents; sister, Khanthaly (Dustin) Wing, niece and nephew, Katt and Kydin Wing; grandmother, Son Khanthamath; father- and mother-in-law, Monte and JoLinda Hughes and sister-in-law, Kristina Hughes. He is also celebrated by an abundance of cousins who Chandy spent his life with. To them, he is their brother.

Chandy lived with no regrets and strongly believed in living life to the fullest. His love for his wife and his kids—his best buddies—was indescribable. He was a mentor, a warrior, and a kind and generous spirit. He had a contagious laugh and love for life. He loved meeting new people, which is evident in his infinite amount of friends from all walks of life.

Visitation will be held from 4-8pm, Friday, July 9, 2021 at Grace Church, 4200 E. 25th Street, Des Moines, IA. Funeral services will be held at 10:30 a.m., Saturday, July 10, 2021 at Grace Church.
The funeral will be livestreamed for those unable to attend. A link will appear, just prior to the service, on Chandy's obituary page at www.IlesCares.com, where you may also leave online condolences. Donations may be made in Chandy's honor to Iowa C.O.P.S. and The Colon Cancer Coalition.

To know Chandy was to love him, and he will be missed tremendously and most of all, never forgotten. #chandystrong.