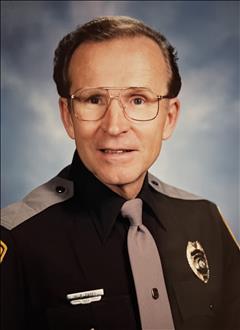 Willis (Will) Zabel
March 9, 1935 to October 18, 2021
Willis (Will) Zabel , 86, of Fort Dodge, passed away on Monday, October 18, 2021 at the Paula J. Baber Hospice Home.
Funeral services will be held on Friday, October 22nd at 11:00 AM at First Presbyterian Church. The family will be present to see friends on Friday from 10:00 to 11:00 AM at the church.
Laufersweiler Funeral Home is serving the family.
Willis (Will) Zabel was born March 9, 1935 in Battle Creek, IA to parents Robert and Hazel Zabel. Will grew up on a farm where he was active in 4H, a three- year grand champion hog winner and a stand-out high school athlete in basketball, baseball and track.
In 1955, he joined the US Army. He served two years in a Calvary unit in Germany, where he drove a tank. Upon discharge, Will carried on his service and entered the Law Enforcement Academy where he proudly served as an Iowa State Trooper for 33 years. His assignment took him to Fort Dodge where he met his wife Janet Faine and they were married on Sept. 13, 1958. They celebrated 63 loving years of marriage.
At the beginning of Will's career, he held the position of driver's license examiner until transferring to road assignment where he became a technical accident investigator. During this time, he also served 10 years as Secretary-Treasurer of the Iowa State Troopers Association and was on the Board of the State Police Officers Council.
An athlete all his life, Will was an avid marathon runner who proudly qualified and ran in the Boston marathon. He remained active in the community and shared his love of sports and running with his daughters and local 12-16 year old youth in baseball, softball and basketball. An avid bridge player, he was a member of the Duplicate Bridge Club, was a Golden K Kiwanis member and Elder and Deacon of The First Presbyterian Church.
Left to cherish his memory are his wife, Janet, daughters Maude(Matt) Becker and Jennifer Musselman and his grandson Bradley Becker; sisters Rita (Grant) Vinsant, Elaine Bonrud and Diane (Joe) Schrieber; brother-in-laws Dr. James (Jan) Faine and Dr. John(Amy) Faine; and favorite uncle to many nieces and nephews. He was preceded in death by his parents, and sister and brother-in-law Joann and Sid Steck and nephew Kirk Steck.