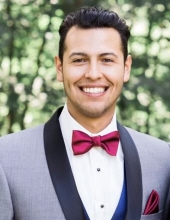 Mario O. Gonzalez
February 11, 1995 to November 20, 2021
Mario O. Gonzalez, age 26, of Boone Passed away Saturday, November 20, 2021, in a single vehicle accident.

Visitation will be from 4:00 to 7:00 P.M. Friday, November 26, 2021, at the Boone High School Gymnasium. Memorial Services will be held at 10:00 A.M. Saturday, November 27, 2021 in the gymnasium. Following the service, Military Honors, will be performed at the Veterans Monument in Linwood Park Cemetery, Boone.

Mario Orlando Gonzalez was born February 11, 1995, in Mission, Texas, the son of David and Olga (Saldan͂a) Gonzalez.

He joined the Iowa Army National Guard (IANG) in 2012, at the age of 17, with his family's blessing. Mario went to basic training at Fort Jackson, South Carolina, that summer and LOVED it…the family has letters to prove it! He started his senior year at Boone High School, two weeks later than the rest of the Class of 2013, because he needed to complete his basic training.

Mario graduated from Boone High School, and left shortly thereafter for Fort Sam Houston in San Antonio, Texas, to train as a 68P (Radiology Specialist). He was the youngest member in his class and graduated with distinction. After graduating from Fort Sam Houston, he was stationed at the Womack Army Medical Center in Fort Bragg, North Carolina, and was a 68P, until 2015, when he decided to switch careers to join the Army Infantry. His family wasn't very excited about the career change, but Mario knew the infantry is what he wanted to do and with his family's support he made the change. Mario loved infantry!

In 2016, he joined the Boone Police Department and served as a fulltime officer until 2019. He currently was working as a part time officer.

Mario was united in marriage to the love of his life, Anna Gainer, on July 29, 2017, in Boone. They had their precious son, Antonio Orlando, in 2018, and their sweet daughter, Eliana Rose in 2020.

The IANG gave Mario the opportunity to train as a sniper, which is something that he wanted to do. He graduated from sniper training in 2021, from Camp Robinson in North Little Rock, Arkansas.

Mario was a loving and giving husband, father, brother, grandson, cousin, brother-in-law, uncle, son-in-law, and son. He was a great friend to many and committed police officer to the citizens of Boone. He was also an honorable soldier with the Iowa National Guard.

Our hearts are torn and broken. He will be missed dearly, but we know that Jesus has him in His loving arms and we will see him again.

Mario is survived by his wife, Anna Gonzalez and their children, Antonio and Eliana; parents, David and Olga Gonzalez; four brothers, Israel Gonzalez, Isidro Gonzalez, Ramon Gonzalez, Pedro Gonzalez; sister, Nayeli Gonzalez; paternal grandmother, Amanda Gonzalez; maternal grandparents, Everardo and Sanjuanita Saldan͂a; mother-in-law, Joni Gainer; father-in-law, Greg Gainer; brothers and sisters-in-law, Rachel (Nate) Ross, Nate (Olivia) Gainer, Sarah (Trey) Smith, Josiah Gainer and David Gainer; five nieces and one nephew.

He is also survived by his aunts and uncles, Ramon (Kim) Gonzalez, Amanda (Rogelio) Salazar, Juanita (Guy) Carvajal, Albino Gonzalez, Pedro Gonzalez, Brenda (Horacio) Ramirez, Leonor Saldan͂a, Everardo Saldan͂a, Jr. and Marisol Saldan͂a.

He was preceded in death by his paternal grandfather, Ramon Gonzalez; uncles, Juan Pablo Gonzalez, Edin Gonzalez and Ysidro Gonzalez.

Poem By Chief Tecumseh:
"So, live your life that the fear of death can never enter your heart. Trouble no one about their religion; respect others in their view, and demand that they respect yours. Love your life, perfect your life, beautify all things in your life. Seek to make your life long and its purpose in the service of your people. Prepare a noble death song for the day when you go over the great divide.
Always give a word or a sign of salute when meeting or passing a friend, even a stranger, when in a lonely place. Show respect to all people and grovel to none.
When you arise in the morning give thanks for the food and for the joy of living. If you see no reason for giving thanks, the fault lies only in yourself. Abuse no one and no thing, for abuse turns the wise ones to fools and robs the spirit of its vision.
When it comes your time to die, be not like those whose hearts are filled with the fear of death, so that when their time comes, they weep and pray for a little more time to live their lives over again in a different way. Sing your death song and die like a hero going home."
~ Chief Tecumseh"

The Mario Gonzalez Memorial Fund has been established through Vision Bank. All donations will go to the family and should be made out to the Mario Gonzalez Memorial Fund, and be dropped off or mailed to any Vision Bank branch location.