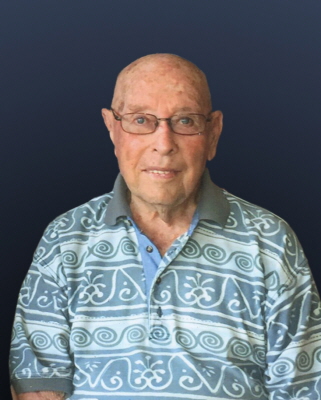 Ralph R. Cigrand
May 11, 1926 - February 8, 2022
Ralph R. Cigrand, 95, of Dubuque, died Tuesday, February 8, 2022, at the Hawkeye Care Center.
A private funeral service for Ralph will be at Hoffmann Schneider & Kitchen Funeral Home & Crematory with Deacon Mike Ellis officiating. Burial will be in Mount Calvary Cemetery in Dubuque.
Ralph was born May 11, 1926, in Cascade, IA, the son of Christopher "Chris" and Margaret Neyens Cigrand. On July 16, 1949, he married Mary Jean Sartor in Sacred Heart Catholic Church in Dubuque.
He was a U.S. Army Veteran, serving in the European Theatre during World War II.
Ralph was a police officer for the City of Dubuque for 36 years. After retirement he owned and operated Rufus Ice Skate Sharpening.
He was a member of Church of the Resurrection, and a 75 year member of Knights of Columbus Council #510.
Survivors include his wife, Mary; one son, Greg (Cindy) Cigrand of Dubuque; three daughters, Christine (Michael) Schiesl of Dubuque, Lesa (Bill) O'Neill of Carmel, IN, and Paula (Steven) Cook of Dubuque; nine grandchildren, Molly (Kurt) Deutsch, Aaron (Jessica) Cigrand, Adam Ottavi, Jessica (Chad) Soppe, Peter (Kari) O'Neill, Patrick O'Neill, Jenna (Joseph) Billmyer, Sean Cook, and Alyssa Cook, and seven great-grandchildren.
He was preceded in death by his parents, two brothers, Alvin Cigrand and Donald Cigrand, and one sister, Irene Gleason.