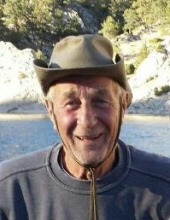 Paul C Sueppel
November 1, 1939 - August 3, 2022
Paul Carl Sueppel died in his home on August 3rd, surrounded by family, after a long, brave battle with cancer.

Mass of Christian Burial will be celebrated at 9 AM, Saturday, August 6, 2022 at St. Mary's Catholic Church with Father Stephen Witt officiating. Burial will be at St. Joseph Cemetery. Visitation will be Friday from 4 PM to 7 PM at Lensing Funeral & Cremation Service. The rosary will be recited at 3:30 PM and a Vigil Service will be held at 6:30 PM.

Paul was known for his sharp wit, big heart, and endless pride in his large, gregarious family. He would want us to add here that he was also strikingly good-looking. He was a lifelong fisherman and enjoyed annual trips to Wyoming with family and friends. He was a John Wayne super fan, old school country music buff, a devoted Catholic, fierce euchre player, and a handyman extraordinaire. To his family, he was a source of biting humor, strength, and the best dance moves around.

He was born on November 1, 1939 in Iowa City to Katherine (Striegel) and Francis Sueppel, and raised alongside his seven siblings. He attended St. Mary's Catholic schools until the end of 10th grade when he was kicked out (or so he always said). He then went to City High and graduated in 1957. After high school he spent six months in the National Guard, and then studied diesel mechanics and worked as a mechanic at Owens Brush.

In 1961, Paul was set up by his sister Ann on a blind date with Judith Manatt of Brooklyn Iowa, which changed his life. He married Judy and they raised their five children on DeForest Street in Iowa City. They were partners in crime, with matching feistiness, humor, and endless love for each other, and for anyone else who needed it. They served as emergency foster care parents for Johnson County, taking numerous children into their home over the course of 10+ years.

In 1967, he started as a radio operator/dispatcher for the Iowa City Police Department at night, and as a carpenter (building houses) by day, while he worked toward his goal of becoming a police officer. He said, "The only thing I ever wanted to do as a police officer was work with kids." During his time as a police officer, he located runaways, gave talks in schools about the role of a police officer, and excelled at "nabbing burglars.". Throughout his career, his honors included two lifesaving awards, Outstanding Young Law Enforcement Officer of the Year, and numerous letters of commendation. In 1990, Paul was promoted to the rank of Sergeant and began field duty as a patrol sergeant, working in homicide, arson, burglary, and drug enforcement. He retired in 1995 after 23 years on the police force.

After his retirement, he continued working as a private security officer for Proctor & Gamble and as a private investigator. His next retirement job was to start his own business. He founded Sueppel's Vinyl Siding (now Sueppel's Siding and Remodeling) in 1995. He worked happily for many more years and then retired again (which, by this time, we understood that he just liked to have a reason for a retirement party). Even after his third retirement, he continued to work as a handyman, offering his services to friends and family members and often accompanied by one of his grandsons.
Paul and Judy later resided on Rochester Avenue and were the hub for after school snacks for the grandkids, endless raucous holiday traditions, all-you-can eat garden tomatoes, rhubarb, mulberries, and watermelon in the summertime, deck parties that always seemed to welcome an unexpected guest or two, and visitors from far and wide, including friends from Spain who grew into family. His beloved Judy died after a brief illness in 2002.

In 2004, Paul married Carolyn Sahs Corson. He and Carolyn spent 18 special, wonderful years together and especially enjoyed traveling, visiting family and friends, and playing dominoes with his sisters and brother.

Paul served as the self-appointed head of his extended family, and he remained close with his seven siblings. He enjoyed watching his family grow, especially his grandchildren and great-grandchildren, who affectionately called him "crazy Grandpa Paul". He instilled the importance of giving with his spontaneous acts of kindness for strangers and his annual adopt-a-family Christmas tradition, where he would take the grandkids shopping for others in lieu of gifts.

Grandpa Paul was a legend. All who knew him were endlessly impressed by his warmth, humor, and youthfulness, even in his last days. He kept us honest, humble, and taught us the value of hard work, joy, family, and letting your light shine brightly and unapologetically. He is undoubtedly watching over us, raising a toast— beer in hand, big smile on his face, donning an intentionally ridiculous novelty t-shirt— to a life well-lived and well-loved.

His legacy will continue through his family— his wife, Carolyn; children Kirsten (Mike) Hanrahan of Iowa City, Robin Sueppel of Iowa City, Natalie (Rob) Francis of Ankeny, Charlie "Paul" (Jen Angerer) Sueppel of Iowa City, and Carrie (GT) Karr of Iowa City; stepsons Nathan (Susan Dundon) Corson of Northbrook, IL, and Seth Corson of Chicago; 12 grandchildren–Madelynn (Jerad) Krall, Logan (Desirae) Hanrahan, Riley (Mia Boldt) Hanrahan, Taylor Francis (Grant Laverty), Marcus Francis, Romey Angerer-Sueppel, Bram Sueppel, Lydia Karr, Ellen/Luca Angerer-Sueppel, George Karr V, William Karr, and Henry Karr; and five (soon to be six) great grandchildren– Lilliana, Brooks, Emilia, Briar, and Adelaide.

He is also survived by sisters Marilyn Simpson of Eldridge, Alice Finnegan of Tipton, Ann Madsen of Iowa City, sisters-in-law Patricia Sueppel, Mercy Sueppel, and Carol Sueppel, all of Iowa City; Margaret (John) Erikson of Oberlin, OH, Mary (Jim) Ingle of Rochester, MN, and Janet (Fred) Pilcher of Cedar Rapids, as well as many nieces, nephews, their children, and bonus family members Chuck Winston of Denver, CO, and Bella Cooley of Iowa City, IA.

He joins in heaven his late wife Judy (in time for what would have been their 60th wedding anniversary on August 4th); his parents; 3 brothers William, Robert, and Bud Sueppel; sister Pauline McAreavy; and his brothers-in-law Jerry Simpson, Tom Finnegan, Tom McAreavy, Sonny Madsen.

Although he thought of himself as a "common man," all who knew him recognized that he was anything but.

In lieu of flowers, memorials may be made to Iowa City Catholic Worker House, Iowa City Hospice, or Neighborhood Centers of Johnson County.